GOMA markets – Susan Simonini
July 16, 2014 at 7:54 am 1 comment
We're very lucky to have Gold Coast potter Susan Simonini join us for the first time at the GOMA Winter Design Market this Saturday. Susan has been very popular on Etsy of late, and it's no surprise as her bowls and plates are just delightful!
My current favourites are the tapas plates below with their Japanese-style geometric motifs, but there are so many other beautiful pieces to choose from. If you visit my stall this weekend and I'm nowhere to be found, just pop around the corner to Susan's stall and you'll probably find me there still trying to decide what to buy!
You can keep up with Susan's adventures in pottery on her blog or buy her amazing work on the Susan Simonini Etsy store – or see it all in person at the GOMA markets outside the Gallery of Modern Art in South Brisbane this Saturday 19 July from 9am to 4pm.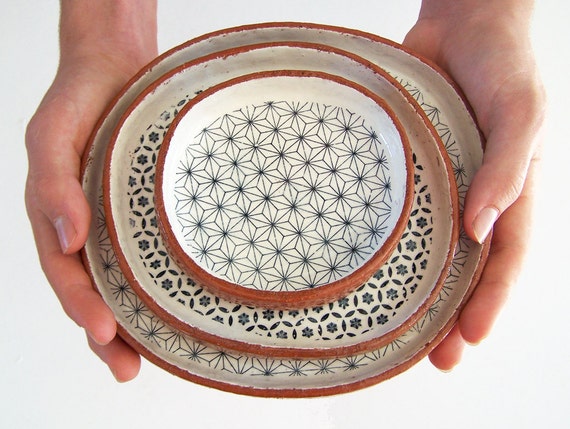 Image courtesy of Susan Simonini.
Entry filed under: Pretty Things, Special people. Tags: ceramics, Gallery of Modern Art, gold coast, gold coast potter, GOMA markets, goma winter design market, japanese geometric design, susan simonini, tapas bowls.